OUR STORY
Playing games is in our DNA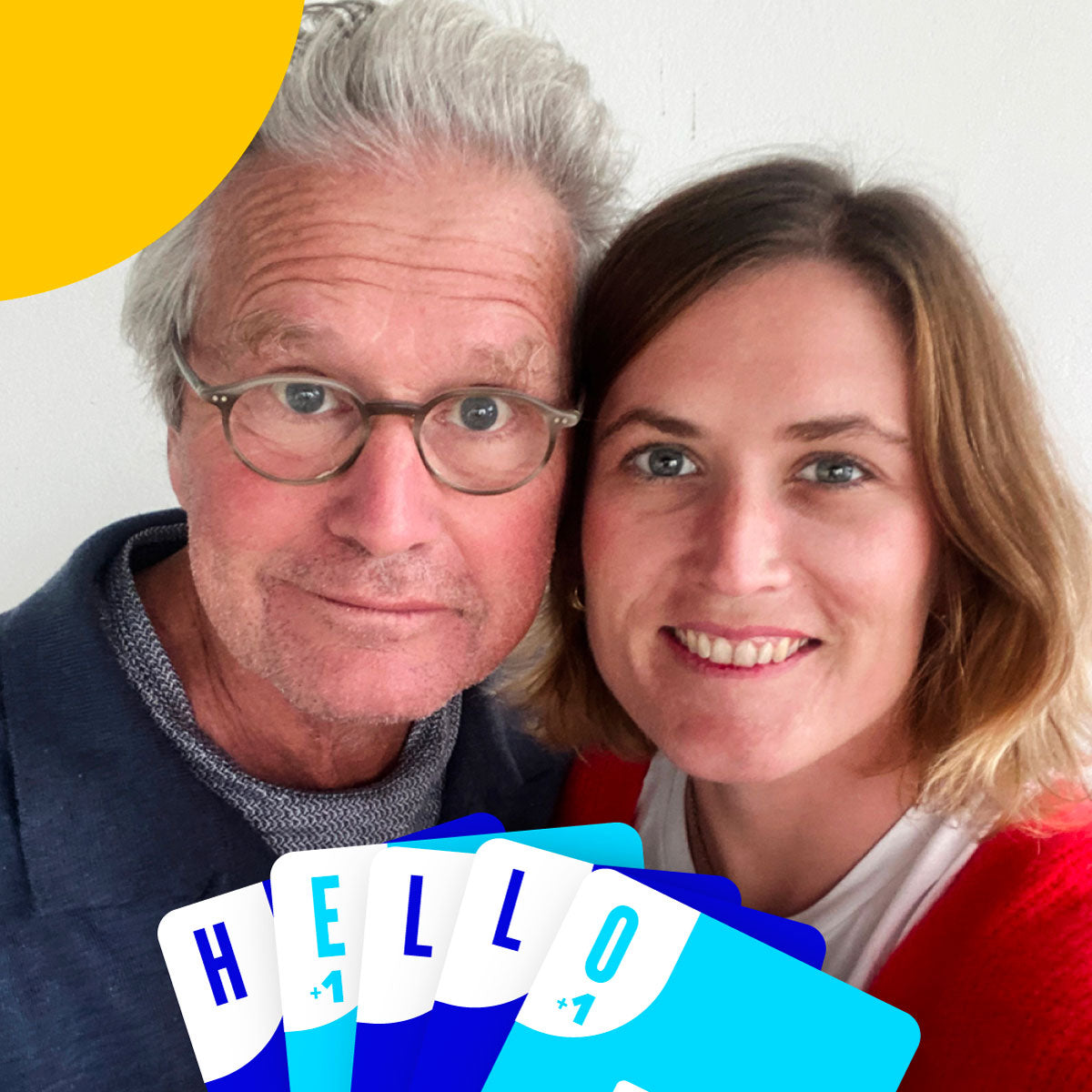 THE FAUCONS: Father & Daughter
Pierre, the father of the FAUCON Family, initially set up Y A QU A to design, edit and produce games for smartphones.
Y A QU A is a family business, and all the concepts for new games are developed and tested by the family themselves.

Y A QU A has already produced some ten digital letter-based games and quiz games that are all 100% original and available on the AppStore and Google Play.

Every day, an average of 20,000 players across the globe spend around 15 minutes playing one of Y A QU A's games.

Published at the start of 2021, the CRACK LIST app was an instant hit in both France and the USA, even being named Apple's Game of The Week.

At Y A QU A, Charlotte, daughter n° 2, AKA Miss Resourceful, edits and develops the games.
WORDS OUT, the very first game we created
After two years of living through a pandemic, we were more eager than ever to pursue our dream of designing and selling games.

The idea was simply too good to ignore! The time had come for Y A QU A to turn all those what-ifs into reality.
During the first lockdown we created and tested our very first game, WORDS OUT, designed for fans of letter games and Scrabble. It was so much fun that we immediately decided to start working on game number two. Once we'd published the CRACK LIST app and saw that the digital version was a huge hit, we started thinking about how the game could be played sitting around a table.
Découvrir Words Out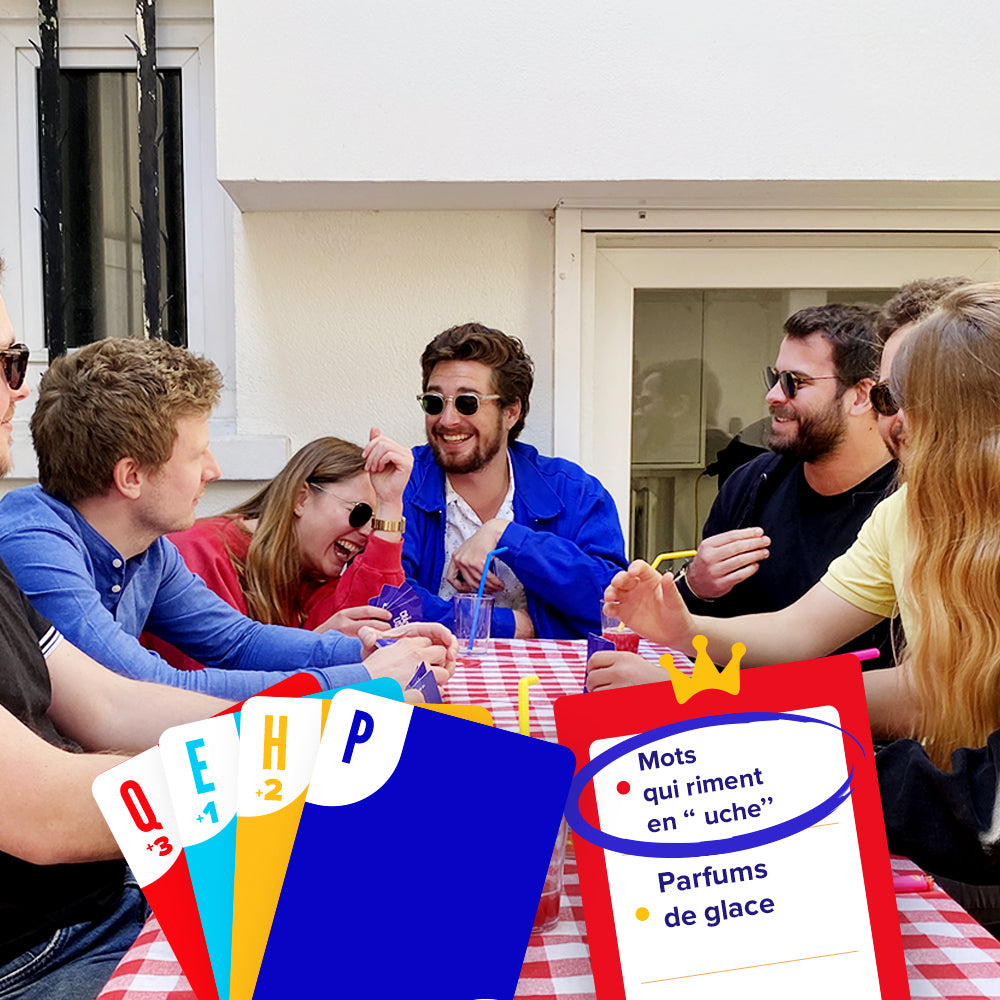 THE CRACK LIST CARD GAME
- Hey Dad, why don't you create an Uno-style game based on your CRACK LIST app?
- Yeah, Dad, a Categories card game would be totally fab!

The whole family got involved.
We spent our summer playing the game as a family over and over again until we'd nailed the basic rules.
A first prototype was then launched and tested by some thirty players of all ages.
We finalised the rules based on our testers' feedback, and then launched our first production run.

CRACK LIST is a game that is designed to be entertaining and fun. It has already brought so much joy to our lives, resulting in laughing fits, heated debates and outlandish attempts to bluff... all the emotions we can guarantee you'll get to experience when playing CRACK LIST yourself.


Ready to rediscover how much fun a card game can bring? CRACK LIST can make that happen - the only ingredient that's missing is you!
Order the game
IN THE FAUCON FAMILY, I'M LOOKING FOR...
The Dad: Pierre
His favourite category: Rock bands

The Mum: Florence
Her favourite category: Perfume brands

Daughter n° 1: Juliette
Her favourite category: Stinky cheeses

Daughter n° 2: Charlotte
Her favourite category: Words that end with "ick"

The Son: Marin
His favourite category: Words that rhyme with "haze"

Daughter n° 3: Ambre
Her favourite category: French culinary specialities
THE FAUCON FAMILY'S
TOP 10 FAVOURITE CARD AND BOARD GAMES
Card and board games build bonds
When it's pouring down outside and you're all stuck at home, there's one activity that absolutely everyone can do together.
Playing card and board games is a great way of bringing people together, and our family's goal is to help you enjoy some quality time as a family, filled with laughter and fun.

We designed the CRACK LIST card game with precisely that in mind, packing it with 78 CATEGORY LIST cards that provide no fewer than 234 entertaining and unique categories to choose from.
You'll also find hundreds of exciting new categories on the CRACK LIST PARTY app (AppStore and Google Play).

In a nutshell, CRACK LIST is:

a card game,

to play with family, friends, or colleagues,

perfect to play whilst sipping aperitifs or at parties,
for trivia enthusiasts,
for Uno fans,
for anyone who loves games full of sneaky little twists and turns.
In other words, it's the exciting new game that's missing from your life.